Admission Information
Information for foreign applicants
Undergraduate School
In the School of Science, our objective is to help students gain a profound understanding and knowledge of natural science and scientific technology as well as acquire logical thinking skills and the ability to devise novel approaches. To this end, we offer methodically planned education over the course of four years with value given to fundamentals and foundations. By cultivating students' problem-solving skills, we hope to produce individuals with a broad perspective and the ability to properly address issues and situations in the society with science and engineering as the backbone. In the fields of science and engineering, students are expected to approach their course work with the expectation of continuing on to graduate school after four years of undergraduate education In the School of Science, more than 65% of the students go on to graduate school. Each course features curriculum that is designed to be completed in the four-year undergraduate program. In addition, we also offer a sequential undergraduate/master's program, including an early graduation system that allows students to graduate in three years.
Most of the subjects in the undergraduate program are taught in Japanese. Therefore, students who wish to join our undergraduate program are required to demonstrate proficiency in Japanese. Foreign applicants are required to take an entrance exam for privately funded international students or go through a general screening, both of which are conducted in Japanese. For more details, please refer to information on our university entrance examination.
Graduate School
The Graduate School of Science offers uniquely designed educational programs aimed at nurturing the ability of students to find problems and solve them based on systematic and comprehensive knowledge fundamental to each field. Two of our programs have been selected as recipients of the Support Program for Improving Graduate School Education, a prioritized support program of the Japanese Ministry of Education, Culture, Sports, Science and Technology (FY2007 - FY2011). Our programs allow students to take courses in related fields and give them ample opportunity to experience different areas. Through those efforts, we aim to train highly creative researchers and specialists with a broad vision.
In terms of research activities, we are working earnestly to promote cutting-edge basic and fundamental research as well as studies geared toward the development of applications based on basic research results. A number of ongoing studies are large-scale projects supported by the Japanese government. Furthermore, we strongly encourage and support seeds research by junior faculty members as well as studies that venture into novel fields.
In addition, we organize numerous projects targeted at elementary as well as junior and high school students in hopes of enlightening them about the interesting aspects of science and technology, and at the same time extend our activities in collaboration with junior high and high schools and other secondary education schools. Moreover, fully understanding the need for advanced continuing education in the fields of science and engineering (e.g., continuing science and math teacher education, doctoral courses for businesspersons), we offer intensive programs based on our achievements and experience.
As in the case of all graduate schools in Japan, the Graduate School of Science at Tokyo Metropolitan University offers master's degree programs (two years) and doctoral degree programs (three years). The figure below illustrates the Japanese educational system. Applicants are required to take the entrance exams for admission to the master's program and the doctoral program. Students will receive a master's degree upon completion of the master's program, and a Ph.D. upon completion of the doctoral program.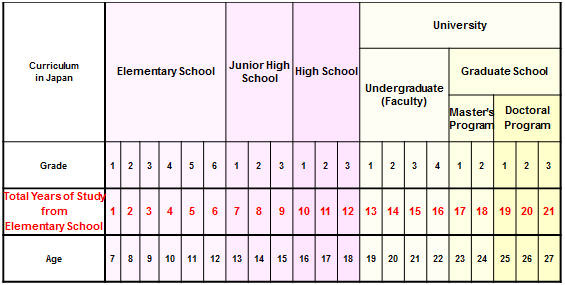 Because research lies at the heart of graduate education, the first step is to find a research advisor. First, you need to find a faculty member from whom you wish to receive research guidance. The faculty member will help you choose the most appropriate way to gain admission to the program of your choice and introduce you to the scholarships available. If you are an undergraduate student and cannot decide which faculty member to contact, we encourage you to visit the website of each department to help you make a decision.
In the graduate school, the main focus is research and research guidance may be given in English or Japanese. As graduate school lectures have small class sizes, the lectures may be conducted in English for your benefit. In any case, proficiency in Japanese is not critical in graduate school. Instead, you must have sufficient communication skills in English.
Information regarding the master's program entrance examination: In order to apply for the master's program, you need to show proof that upon graduation from college, you received a total of 16 years of education counting from elementary school. Depending on the educational system of a country, some students may be able to graduate from college in less than 16 years. If this is the case, an assessment will be made to determine whether the education received is equivalent to the 16-year education in Japan. The entrance examination for the master's program may be taken in English or Japanese. The topic of the examination is about the field of study of your choice.
Information regarding the doctoral program entrance examination: In order to apply for the doctoral program, you must have completed education equivalent to a Japanese master's program. Unlike the examination for the master's program, the number of years of education you have received up to that point is not relevant. Rather, importance is placed on research achievements up to your master's study.
An extensive range of scholarships are offered by Tokyo Metropolitan University, the Tokyo Metropolitan Government, and the Japanese Ministry of Education, Culture, Sports, Science and Technology. Please consult your research advisor to determine which scholarship is the most appropriate.
Information on Entrance Examination of Graduate School
【Admission outline】
Outline of the entrance examinations to be conducted in 2023 academic year (Feb. 20, 2023)
Master's program
Enrollment
Selection Dates
Application Guidelines
Master's Program
Summer examination
April, 2024
October, 2023
August 29 and 30, 2023
Application Guidelines New!(May 19, 2023)
Master's Program
Winter examination
April, 2024
February 7 and 8, 2024
"Tokyo Global Partner
Scholarship Program"
International Student
Special Selection
October, 2023
Date designated by the school during May 1 and 22, 2023.
Application Guidelines
(Reference)
Doctoral program
Enrollment
Selection Dates
Application Guidelines
Doctoral Program
(April enrollment)
April, 2024
February 6, 2024
Application Guidelines
(Reference)
"Tokyo Global Partner
Scholarship Program"
International Student
Special Selection
October, 2023
Date designated by the school during May 1 and 22, 2023.
Application Guidelines
(Reference)
International Student Special Selection
October, 2023
Date designated by the school during May 1 and 22, 2023.
Application Guidelines
(Reference)
Doctoral Program
(October enrollment)
October, 2023
August 28, 2023

Application Guidelines New!(May 19, 2023)